Interesting Column on the Rays from ESPN.com
ST. PETERSBURG, Fla. — Way back in June, when most everyone else likely figured them for a fluke and even the Rays couldn't be completely sure themselves, Tampa Bay's players walked onto the field at Fenway Park and saw something that neither they, nor anyone else had ever seen at that point in a season. It was a sight so grand and stunning that several players simply had to take photos to capture the moment, just in case it didn't last.
The Green Monster showed the Tampa Bay Rays on top of the American League East standings.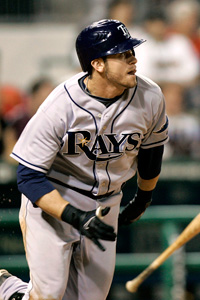 AP Photo/Keith Srakocic
Rookie Evan Longoria is one of several young players who played a key role for the Rays this season.
"It was 40 games into the season and we were in first place," Jonny Gomes recalled. "It was only 40 games into the season, but we had never been on top of that board. It had always been Boston or New York on top and you could just screw Tampa Bay into the bottom and just mess with how many games behind we were. 
"It's something I've never experienced, to be looking down on the American League, instead of looking up." 
Gomes and the Rays got used to the sight as the season progressed. They went on to win the division and spend 109 days in first place, 91 more atop the standings than their previous 10 seasons combined. It's one of the most remarkable turnarounds in baseball history, one comparable if not superior to the 1969 Mets, the 1967 Red Sox and the 1991 Braves. So how did they do it? How did the Rays go from nine last-place finishes in 10 years to reaching the playoffs in the toughest division in the majors? 
Begin with an attitude adjustment and a white-haired (and occasionally mohawked) manager with thick, black-framed glasses who is an avid reader, cyclist and oenologist. 
A sign inside the Rays clubhouse prints this message in four languages (English, Spanish, Japanese and Korean): "Attitude is a decision." Joe Maddon placed the sign in the clubhouse when he took over as Tampa Bay's manager from Lou Piniella in 2006. 
"It goes back to the '80s when I was a minor league instructor," Maddon says. "When you're dealing with young players, a lot of the time you don't know where their minds are going to be when they walk into the building. You just don't. In the minors, it's a big problem on a daily basis: who's going to show up each day. So I put that up as a reminder that you are consciously making a decision to change your attitude right now and move on and have yourself a good day. Everything you do is a decision, and attitude is your decision." 
And just what was the attitude in Tampa Bay at the time? 
"There was more pessimism," Maddon says. "I don't think there was as much premium placed on winning today. I'm not talking about the people who worked here. But the players themselves, there was just a different type of attitude the first year. I really felt that. There was not a whole lot of trust. There was no consistency. This was a big comfy place to be, to say I'm in the big leagues and I don't have to win. That's no longer the case." 
Of course, if turning a perennial loser into a contender was as easy as placing a sign in the clubhouse, there would be a 30-way tie for the best record in baseball each season. Indeed, for all of Maddon's words — and he has plenty given his love of literature and a degree from Lafayette College — the Rays responded by losing 101 games in his first season and 96 last year. Apparently, the numbers in the boxscores and on back of the baseball cards still trump the words on the clubhouse wall. 
"When Stuart Sternberg took over ownership in 2006, we had to take a step back first," said Andrew Friedman, executive vice president of baseball operations. "The past two years were really about acquiring as much talent as we could. Then the emphasis really switched for us this year toward fielding a 25-man competitive team to aggressively build around the core talent, and we were able to do that. But a lot of it is still guys stepping up." 
The Rays scouted, drafted and developed so shrewdly that 12 first-round picks were on the expanded September roster, including third baseman Evan Longoria who has gone from frequent questions about actress Eva Longoria to likely American League Rookie of the Year in six months. Despite missing more than a month with a broken wrist, Longoria hit 26 home runs with 83 RBIs. "If that's how he plays when he's coming back from a wrist injury, this league is in trouble," Twins manager Ron Gardenhire said after Longoria homered three times in one game against Minnesota on Sept. 18. 

If you were to give us 100 years to work on it like [the Red Sox] have, we would have the fan base and the Rays Nation. I'll give us Rays County right now. You have to build up.
— Jonny Gomes
They also signed some players and traded for others who helped make the difference. One of the biggest additions was last winter's trade that sent outfielder Delmon Young to the Twins for right-handed pitcher Matt Garza and shortstop Jason Bartlett. Garza won 11 games while Bartlett played so well in the field that the local chapter of the Baseball Writers Association of America named him the team's MVP despite the shortstop driving in only 36 runs and scoring just 45 runs. Such, though, is the emphasis the Rays placed on their defense this season. 
"He solidified the defense," Maddon said of Bartlett. "The diamond within the diamond — Dioner Navarro, J.B., Aki Iwamura and B.J. Upton — it's so different from what we had experienced here in the past. The catcher and shortstop position are always the two primary positions and between those two guys they have definitely given us a target of excellence." 
You build teams around pitching and defense, and Tampa is no exception with a staff that finished second in ERA and had five pitchers win at least 11 games, though none topped 14. 
As the season went along and the Rays continued atop the standings, they proved they were no fluke, that despite a payroll of $44 million, they weren't going to collapse under the force of the richer Red Sox and Yankees. 
"The Angels came in here and they were the best hitting team in baseball and we swept them and we shut them out twice," Gomes says. "Then the Toronto Blue Jays came in here and we beat Roy Halladay and A.J. Burnett right off the bat. And we walked off [by beating] Mariano Rivera in here. The White Sox came into this building one of the hottest teams in baseball and we swept them. It was like 'Whoa!', and it started being contagious. Let's make something happen. Shock the world. Shock the public. Shock St. Pete." 
And now here they are, division champs and in the postseason for the first time, actually selling out their domed stadium, turning the Mohawk into a fashion trend (several players got the hair styles a couple weeks ago and the numbers have been growing steadily) and generally winning over area fans to a team that previously provided little reason for excitement. It's not quite Red Sox Nation in Tampa, but after 10 losing seasons, it's a start. 
"If you were to give us 100 years to work on it like they have, we would have the fan base and the Rays Nation," Gomes said. "I'll give us Rays County right now. You have to build up." 
Jim Caple is a senior writer for ESPN.com.