Special Adults Only Close Quarters Tactical Gun-Fighting Seminar Coming to Sidekicks Family Martial Arts Centers
We're hosting a very special one-of-a-kind seminar at Sidekicks on October 9th.  If you would like to attend or know someone that does, please share the information with them.  See the information below.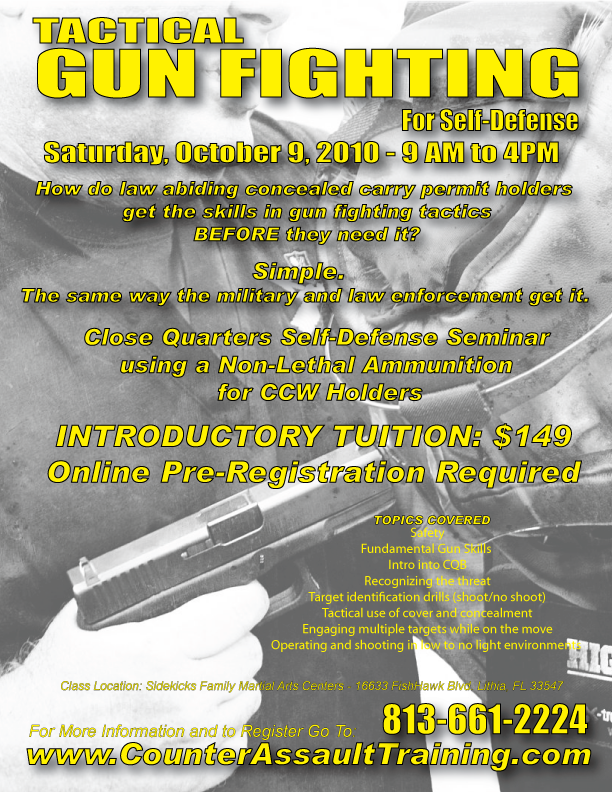 Someone once said that experience is something you get… right after you need it. If you are a law abiding carry concealed carry permit holder how do you get experience in gun fighting tactics before actually getting in a real gunfight?
The same way Military and Law Enforcement Does.
Both Military and Law Enforcement personal have changed the way they train in how they prepare for lethal force conflicts and the best method to do this is training in interactive scenarios that force the student to recognize dangerous cues and humane behavior patterns and solve confrontational problems under stress.
This intensive one day course is designed to develop survival skills of CCW permit holders in a tactical setting and in realistic environments utilizing state of the art non-lethal Man Marker Rounds for safe force on force training.  We will be using this Non-Lethal ammunition for realistic scenario based training-combined with up-close and personal, safety-padded gear assailants who will fight back.
Some of the topics we'll be covering:
§ Safety
§ Intro into CQB
§ Recognizing the threat
§ Target identification drills (shoot/no shoot)
§ Tactical use of cover and concealment
§ Engaging multiple targets while on the move
§ Operating and shooting in low to no light environments
§ Medical first aid treatment considerations
§ Interaction with law enforcement personal
Seminar Location:
Sidekicks Family Martial Arts Centers
16633 FishHawk Blvd. Lithia, FL 33547
813-661-2224
Requirements:
§ Pre-Registration is a MUST (Scroll down to purchase)
§ Must have a valid CCW License or Certificate from a Completed CCW Class (if your CCW License hasn't arrived).  Non-CCW holders must demonstrate the ability to safely handle and dry fire weapon.
§ Qualified resident aliens must also show "Green Card."
§ No photo copies, no exceptions.
§ You must also be legally eligible to own a firearm.  We can not train people that are not allowed to be trained or own firearms
§ Class size is limited, you must have signed up and fullfilled payment requirements by Oct. 5th.
§ DO NOT BRING ANY WEAPONS OR AMMUNITION! Strict safety measures will be in place, all weapons and ammunition will be supplied.
Required Clothing/Equipment:
§ Groin Cup (Men)
§ Breast Protection (Women)
§ Two layers of clothes (long sleeves, long pants) – tactical style preferred
§ Closed toed shoes
§ Eye protection
§ Gloves (padded preferred)
§ Sturdy Belt
Tuition: $149
To learn more about this event